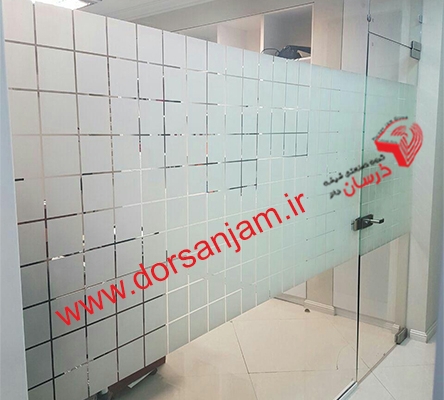 Sand blasted glass /sand blasted glass price
sand blasted glass shows the art in the glass industry to employers.
What is sandblasted glass
Sandblasting phenomenon is used for forsted and pattern or other design on the glass.
Sandblast is same as high pressure sand spraying on the glass , the particle of sand is affected the glass and low volume of the sands stay on the glass.
Different kind of sandblasted glass
Sandblasted glass has a few types that we deal with
Full frosted glass
Raw and tempered glass is set in sandblasting room and spraying operation has done by special operator.
Dorsanjam had added automatic machine to its production cycle to improve the quality and speed of its product.
Sandblasted glass with logo
One of the best way of advertising and interior design for departments is insertion of logo of the same company on the glass door , usually for sandblasting the logo on the glass, at first the pattern is designed by korel and photoshop then printed on special glue by advanced cutter platters ,after the glue is getting ready , they are sticking on the glass by operator or skilled person.
The glass is ready for sandblasting.
The logo on the glass can be applied in two ways : frosted background and glass background, In places where adequate visibility is needed only the logo is sandblasting on the glass and light transmission in maintained.
Frosted striped glass
One of the attractive pattern on the glass is frosted striped sandblast which is used mostly in departments and glass partition . the size between the lines of frosted striped is variable according to customer's request.
It is not believable, but we have made it real, the execution of sandblasted glass less than 24 hours by dorsan jam's engineering team in Iran.
Sand blasted glass price
The price of sandblasting is variable according to amount of work on the glass.for more information contact us.
<<Dorsanjam is the specialist in execution of sandblasting of the glass and the best price of sandblasting in Iran>>